2) Calibration of the assembly tractor/sprayer
The sprayer used for spreading the product has been calibrated in order to verify the quality of distribution (uniformity) and determine the precise quantity of product (water+ commercial formulation) to prepare for the treatment of the entire grass field area (9652m2).

2) Calibration of the assembly tractor/sprayer
3) Identification and quantity of formulation used
Tendance'Herb is an organic pigment system designed for water diluted applications. This formulation is environment and eco-friendly, specifically designed for professional turf and lawn applications. The formula is exempt from toxicological and eco-toxicological classification and does not contain any hazardous or toxic ingredients.
The amount of colorant used for this study was 48 liters (28L light green and 20L dark green). The total quantity of product prepared and used is 280 liters.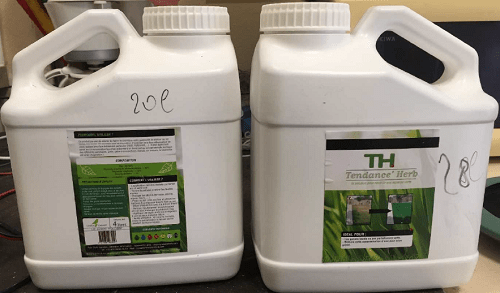 3) Identification and quantity of formulation used